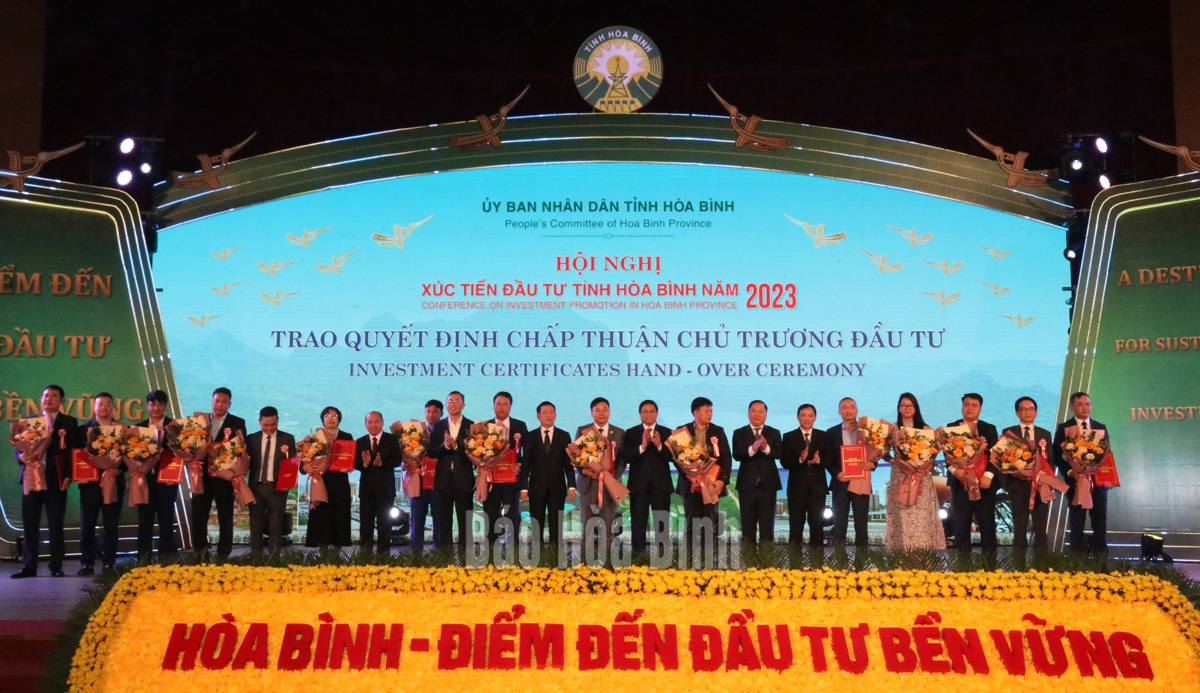 (HBO) – A conference on investment promotion was held on February 26 in the northern province of Hoa Binh.
Prime Minister Pham Minh Chinh attended and delivered remarks at the conference with the theme "Hoa Binh – a sustainable investment destination".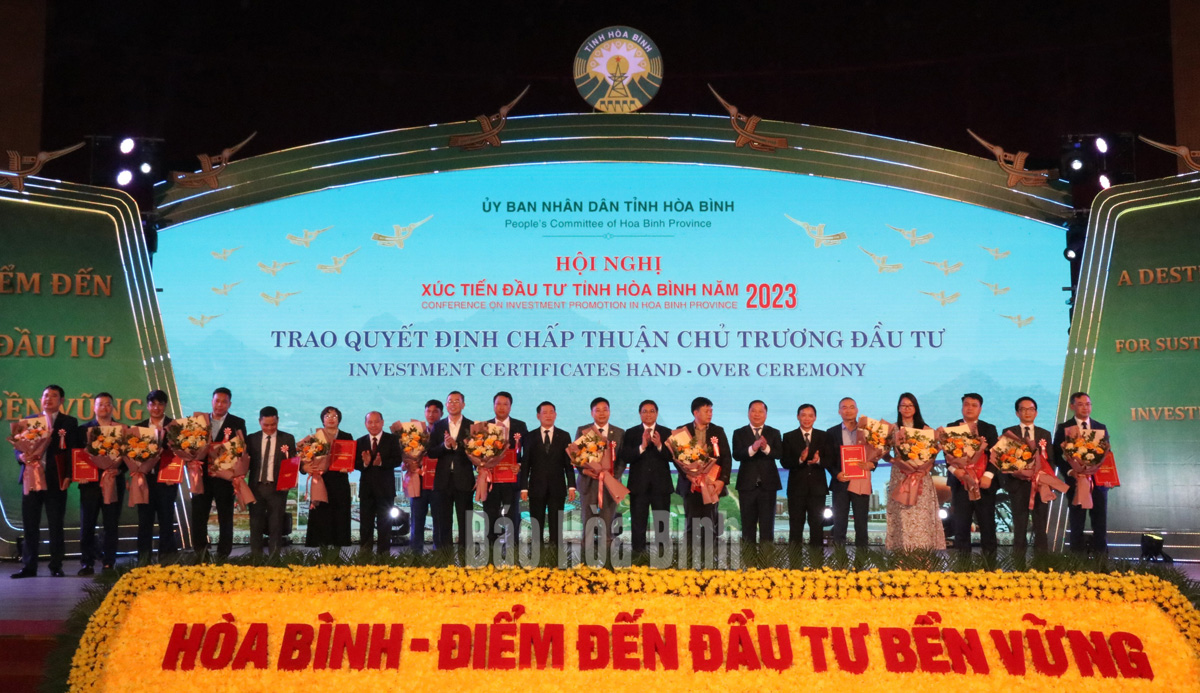 Prime Minister Pham Minh Chinh and other participants present flowers to investment certificate recipients at the event.
Addressing the event's opening ceremony, Nguyen Phi Long, Secretary of the provincial People's Commitee said Hoa Binh province has a very important geopolitical-economic position. It is located at the western gateway of Hanoi's capital. Hoa Binh city, the province's centre, is over 70km far away from Hanoi and 170km from Hai Phong city, he said, adding that this is an important condition to attract investment.
With specific advantages in terms of climate and geography, Hoa Binh province has been developing agriculture in a safe and effective way with the preservationof the cultivated area of agricultural products with well-known registered trademarks such as Cao Phong orange and Tan Lac red grapefruit.
Under a development plan, which was approved by Prime Minister, Hoa Binh will have eight industrial parks covering over 1,500ha.
Regarding tourism, the province has a lot of potential to develop various forms of tourism including eco-tourism, resort, cultural and spiritual tourism, especially Hoa Binh Lake tourist area, which has been designed as a national tourist site. Hoa Binh strives to become an attractive destination with typical tourism products as well as a major tourist centre of the northern midlands and mountainous regions.
The provincial leader affirmed that local administration always accompanies investors in their development.
In his remarks at the conference, the Prime Minister said that Hoa Binh boasts many advantages for comprehensive socio-economic development, especially in industrial and agricultural sectors with the application of high technology.
To tap the potential and promote investment attraction, the PM suggested the province improve the business investment environment and remove difficulties for businesses and investors.
Chinh underlined the need to push up the implementation of three strategic breakthroughs namely basic infrastructure and integrated transport infrastructure, administrative reform and improvement of human resources quality to meet the requirements of investors.
Investors were urged to pour investment in sustainable areas in line with the province's advantages, focusing on emerging industries such as digital transformation, digital economy and green economy.
At the conference, Hoa Binh authority handed over investment certificates to investors of 15 projects with a total investment of over 47 trillion VND (about 2 billion USD)./.