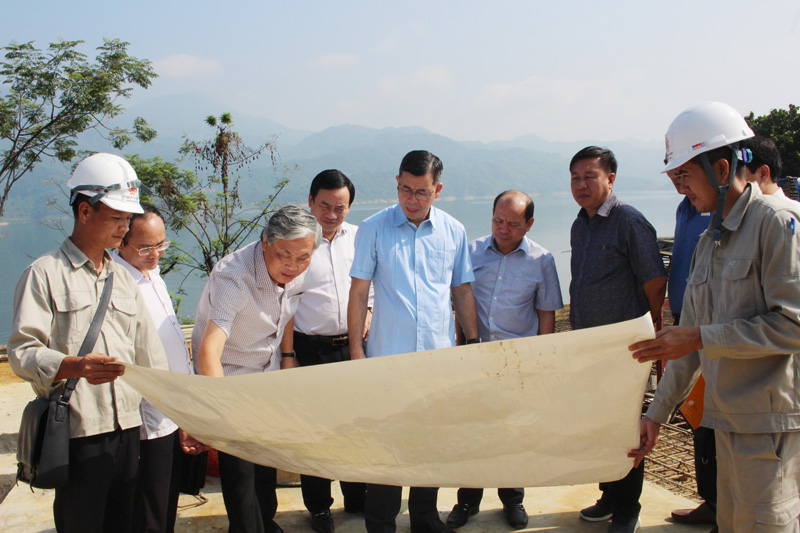 (HBO) – Deputy Secretary of Hoa Binh province's Party Committee Ngo Van Tuan, Vice Chairman of the provincial People's Committee Bui Duc Hinh and leaders of the provincial departments of Planning and Investment; Culture, Sports and Tourism; and Construction, provincial cooperative alliance, Peace Tour JSC and fishery sub-department scoped out tourism development and aquaculture in Hoa Binh Lake.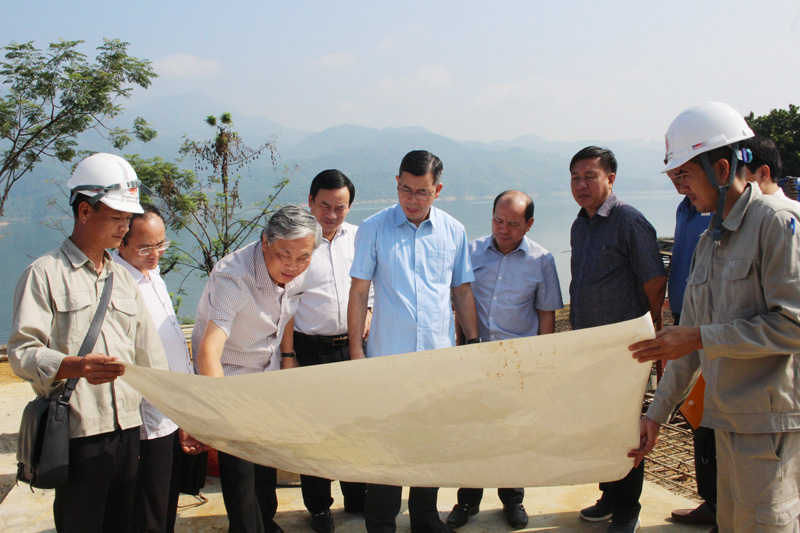 Ngo Van Tuan, Deputy Secretary of the provincial Party Committee, and his entourage heard a report of Peace Tour JSC on the implementation of the Robinson natural tourist site project on Sung island, Tien Phong commune, Da Bac district.
During the field trip, the delegation visited an aquaculture centre of Mavin Hoa Binh Aquaculture Company Limited in Hien Luong commune and inspected the implementation of the Robinson natural tourist site project on Sung island, Tien Phong commune, Da Bac district.
The provincial Department of Agriculture and Rural Development reported that in implementing the provincial Party Committee's Resolution No. 12 dated 2014 on caged fish breeding in Hoa Binh Lake for the 2014-2020 period, Hoa Binh has 4,250 cages, up 1,933 cages as compared with 2015, and 750 cages more than the target set in the resolution.
Two businesses are breeding fishes in more than 200 cages, using cutting-edge technologies, and seven have registered to coordinate with caged fish breeding households that have met technology and food safety regulations.
Aquatic products sourced from the lake have become popular to customers both in and outside the province. Moreover, living standards of local farmers have been improved significantly.
According to the provincial Department of Planning and Investment, 12 projects in Hoa Binh city and Cao Phong and Da Bac districts have received investment licences in the spheres of tourism, herbal plant growing, forestation and aquaculture.
The Robinson natural tourist site covers over 43 ha with total investment capital exceeding 400 billion VND. It includes five-star villages, bungalows, hotels, swimming pools, sport areas, restaurants and spa centres. The project's first phase is expected to be completed in the fourth quarter of 2020 and the entire project is set to be operational in the fourth quarter of 2022, serving as a spotlight to attract more investors to Hoa Binh Lake.
Speaking at the working session, Tuan said the Hoa Binh hydropower plant and Hoa Binh Lake hold significance in socio-economic development as well as national defence and security.
In implementing investment projects and aquaculture activities, businesses and local people must give the top priority to environmental protection, especially water environment and forests, while seriously follow approved master and sectoral plans, he said.
Hoa Binh commits to facilitating the implementation of the Robinson natural tourist site on the basis of legal regulations in order to form a high-quality resort, helping to attract more domestic and foreign visitors.
Tuan asked the main investor to complete legal procedures in line with the law, devise master and periodical plans and ensure the progress of the project./.