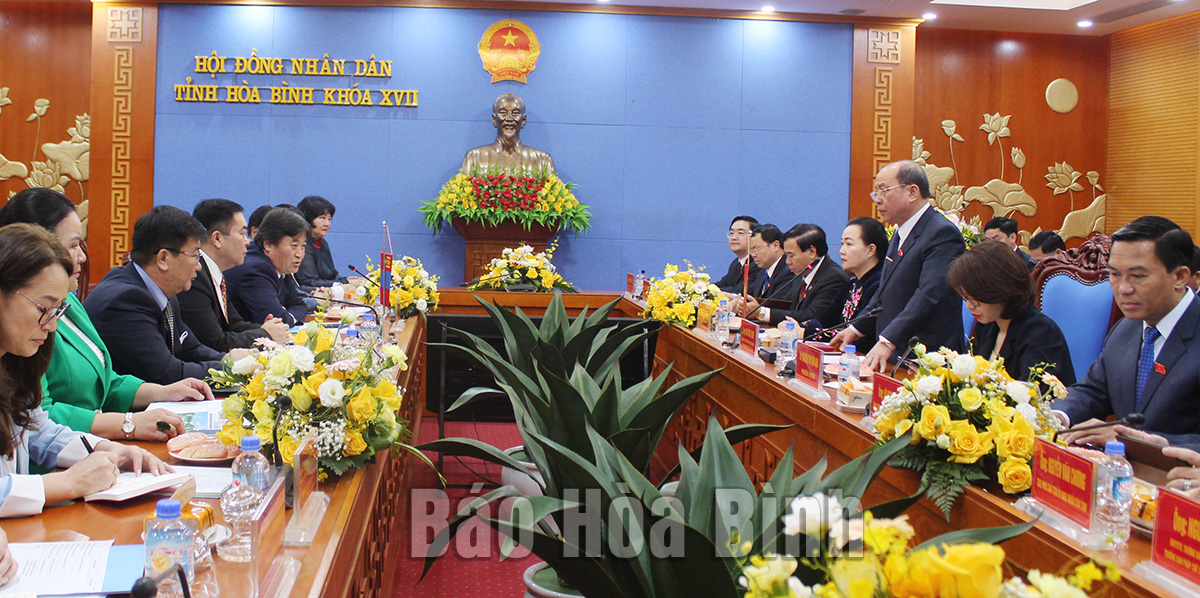 (HBO) - On November 11 morning, a high-ranking delegation of the People's Council of Mongolia's Tuv province led by Chairman Ts.Jambalsuren began a working visit to Hoa Binh province. Mongolian Ambassador to Vietnam Jigjee Sereejav also joined them.
During their stay, Ts.Jambalsuren held talks with Vice Secretary of the Party Committee, Chairman of the People's Council of Hoa Binh province Bui Duc Hinh.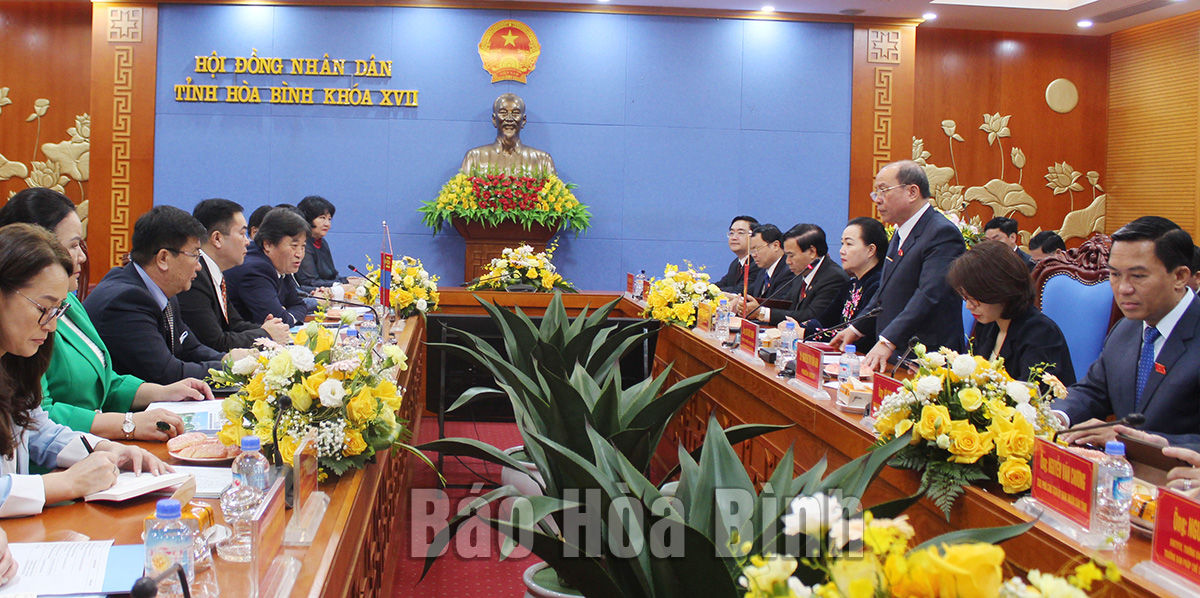 Bui Duc Hinh, Vice Secretary of the provincial Party Committee, Chairman of the provincial People's Council, speaks at the talks.
Welcoming Tuv province's delegation, Hinh said that during the visit to Vietnam by the Chairman of the Mongolian National Assembly, on January 22, 2018, the two provinces' People's Councils signed a Memorandum of Understanding (MoU) on cooperation. Based on the content of the MoU, during the visit to the Mongolian province by a delegation of the Hoa Binh People's Council in 2019, the two sides signed three memoranda of understanding on relations and development cooperation between agencies of the two localities. These are important bases for the two sides to continue tightening solidarity, opening up more opportunities for development cooperation in the coming time.
He told the guests that Hoa Binh province has many potential and advantages, and always focuses on implementing policies to attract investment to promote development, and directing the implementation of strategic goals, and achieved impressive results. The gross domestic product (GDP) growth rate in 2022 is estimated at 9.38%; GRDP per capita at 67 million VND (2,707 USD); total social investment at 18.72 trillion VND, accounting for 33% of GRDP; and the urbanisation rate at nearly 34% by the end of 2022. The province has 37 FDI projects with a total registered capital of 610 million USD and 692 domestic ones totalling 183 trillion VND. Currently, the province has 16 ODA programmes, projects and non-projects; and is implementing 45 aid programmes and projects funded by 16 non-governmental organisations (NGOs), development cooperation agencies and donors with a total committed value of about 19 million USD.
Ts.Jambalsuren informed the host of outstanding socio-economic information of the province, affirming the province's strengths and determination when implementing policies to attract investment, promote economic and external cooperation. Particularly for Hoa Binh province, he stressed that the two provinces have similarities to promote cooperation for mutual development, especially in the fields of clean agriculture, tourism, education and culture.
Ambassador Jigjee Sereejav expressed his belief that in the coming time, the two provinces will find a common voice to embark on implementing cooperation programmes and projects on the basis of mutual benefits. He also wished the bilateral cooperation achieve better results./.
*Right after the talks, the Tuv province's delegation offered incense at President Ho Chi Minh's monument, visited Hoa Binh Hydropower Plant and the OCOP (One commune-one product) booths at the OCOP product classification and evaluation conference in Hoa Binh province in 2022.