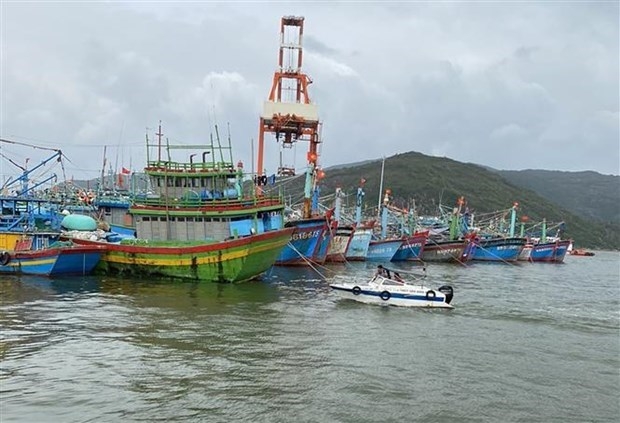 Maritime cooperation within ASEAN and ASEAN-led mechanisms have reaped significant outcomes across spheres despite the COVID-19, heard the 10th ASEAN Maritime Forum (AMF) that was held both in online and in-person formats on December 15.
In his opening speech, Vu Ho, Director of the Foreign Ministry's ASEAN Department, said since its inception in 2010, the forum has become an effective framework to promote dialogues, information sharing and coordination between relevant agencies, significantly contributing to regional maritime cooperation and security.
In 2020, ASEAN has established a network on fighting illegal fishing, built a joint action plan on combating marine waste and studied the feasibility of the building of common fishery policies in ASEAN, delegates at the forum said.
They also highlighted the East Asia Summit (EAS) Leaders' Statement on Partnership for Sustainability, saying maritime cooperation and security are a high priority in action plans for 2021-2025 reached by ASEAN and its seven partners in the year.
The forum also touched upon emerging challenges, including activities and developments that have complicated the situation and increased tensions, thus harming rules-based maritime order, along with non-traditional challenges such as illegal fishing, maritime pollution and plastic waste.
The delegates acknowledged the results and recommendations raised at the seminar marking the 10th anniversary of the forum held by Vietnam on December 12, including the proposal to build ASEAN's comprehensive, cohesive, responsive and inclusive approach to maritime cooperation.
They shared the view on the necessity to enhance information exchange and coordination between agencies, and ease overlapping, as well as the significance of observing international law, particularly the 1982 United Nations Convention on the Law of the Sea (UNCLOS).
The participating countries also discussed measures to consolidate and improve the operational efficiency of the forum.
The 10th AMF formed part activities regarding maritime cooperation chaired by Vietnam in its capacity as ASEAN Chair 2020.
Source: NDO