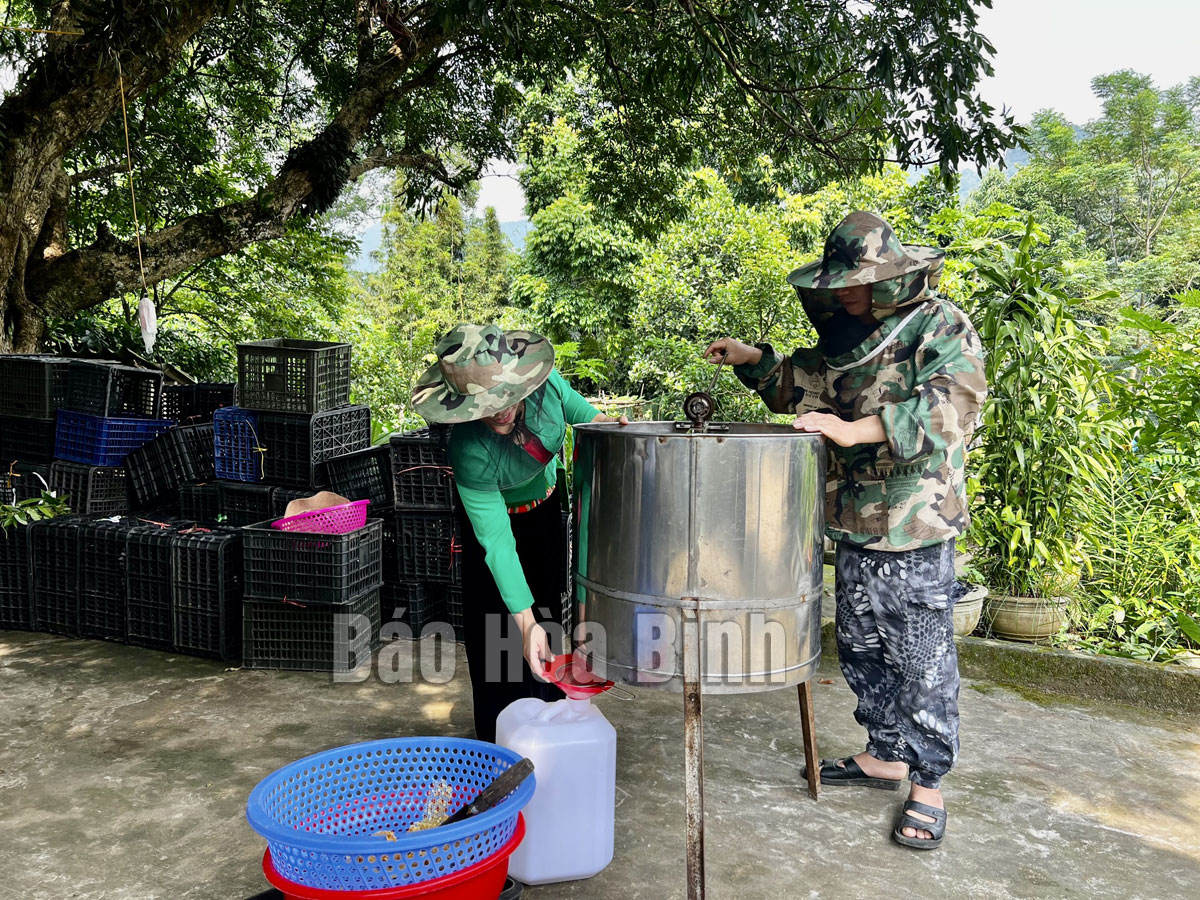 (HBO) - The National Office of Intellectual Property under the Ministry of Science and Technology in 2018 certified the "Hoa Binh Honey" brand name with the Department of Agriculture and Rural Development of Hoa Binh province.
In order to develop the product and brand name, beekeeping households and cooperatives must comply with regulations in order to validate the production chain. To maintain the brand name and expand the consumption market, production households and cooperatives have standardized the honey products under the provincial OCOP criteria.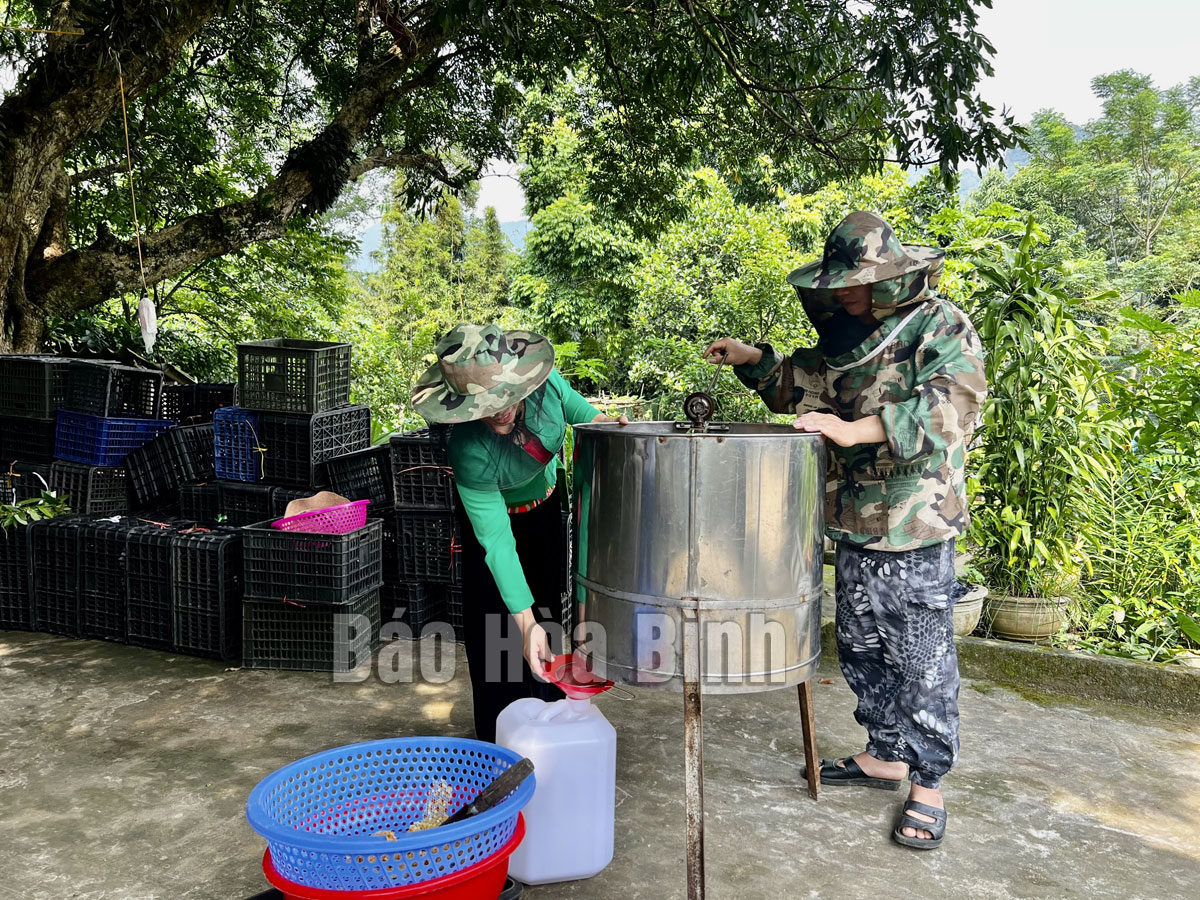 Green Life Cooperative (Hop Tien commune, Kim Boi district) processes honey, ensuring food safety
The northern province of Hoa Binh is endowed with a diverse ecosystem, mild climate and vast forested area, all of which are favourable conditions for apiculture.
Hoa Binh honey has a special flavor, the product of a diverse floral of wild flowers. The meticulousness in each processing step helps produce pure honey that retains its natural aroma and sweetness.
Beekeeping is concentrated in the districts of Luong Son, Kim Boi, Yen Thuy, Lac Thuy and Hoa Binh city. Implementing the One Commune One Product (OCOP) programme, these districts and city have surveyed and supported participants to standardize products according to the OCOP standards.
Hoa Binh province has nine honey products recognized under the OCOP umbrella. These include the Van Tien honey (Van Tien beekeeping cooperative, Ky Son ward, Hoa Binh city); the Khoan Du honey (Khoan Du beekeeping cooperative, Khoan Du commune, Lac Thuy district); the Lac Luong honey of Yen Tan cooperative, Lac Luong commune, Doan Ket honey of Dai Loi agricultural service cooperative, Doan Ket commune; the Lac Sy honey of Lac Sy agricultural cooperative (Yen Thuy district); the Lam Son honey - Lam Son honey bee cooperative, Lam Son commune (Luong Son district); the Thanh An honey - Thanh An agricultural and general service cooperative, My Thanh commune (Lac Son district); the Hop Tien forest honey - Green Life cooperative and Thuong Tien honey - Thuong Tien agricultural service cooperative, Hop Tien commune (Kim Boi district).
Hop Tien commune is famous for its special-use forest of more than 5,000 hectares, where many Celastrus hindsii trees, precious medicinal plants, are grown. Taking advantage of local strengths, Green Life Cooperative has linked with beekeeper households to create Hop Tien honey products.
In 2022, Hop Tien forest honey product is rated 3 stars in accordance with the OCOP provincial level.
According to Dinh Cong Thuan, Chairman and Director of Green Life Cooperative, the average honey production of the cooperative is 15 thousand liters per year, bringing the total income of over 1.8 billion VND. Products are labeled, attached with traceable stamps and packed in 500 ml glass bottles. Currently, Hop Tien honey is consumed at six food stores in Hoa Binh city and Hanoi.
Also rated 3 stars, Thanh An honey is a spearhead product of Thanh An agricultural and general service cooperative in My Thanh commune. Geographical conditions, weather and climate allow the cooperative to promote the development of forest beekeeping. The Thanh An agricultural and general service cooperative cooperates with beekeepers in the commune to help people collect honey under the correct process conditions, and ensure food hygiene while protecting the natural environment and promoting economic development.
Thanh An honey products use consistent product design, logos, and traceability stamps. Product continuity allows the cooperative to expand markets and promote products at e-commerce platforms and exhibitions in the province and beyond.
Hoang Van Tuan, Deputy Chief of the Office for Coordination of the National Target Program on New-style Rural Development in the province, said that developing honey product is a strength in some localities when participating in the OCOP programme. Localities and participants need to continue to improve the quality, design and packaging of the products. In addition to preserving natural bee varieties, production cooperatives need to make use of modern technology in the honey collection process, ensure food hygiene, protect the environment, and promote beekeeping to become highly competitive goods. In addition, participants need to actively put the product on the e-commerce floor, participate in trade fairs to promote and introduce products to seek partners with a view to signing long-term cooperation contracts./.