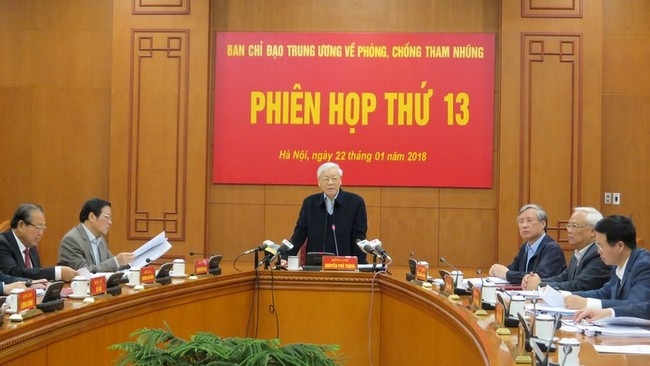 Party General Secretary Nguyen Phu Trong speaking at the meeting (Credit: dangcongsan.vn)
Party General Secretary Nguyen Phu Trong, who is also head of the Central Steering Committee for Anti-Corruption, made the statement while chairing its 13th meeting in Hanoi on January 22 to review its performance in 2017 and devise tasks for 2018.
Speaking at the meeting, the Party leader highlighted the achievements that the committee gained in corruption prevention and control in the past year.
It is crucial to enhance education and communication of laws on anti-corruption among people to fight against wrong and distorted allegations, he added.
The Party chief also noted that the committee should focus on directing the handling and effective prevention of the harassment for people and enterprises (petty corruption) as well as strictly punishing and eliminating corrupt officials from administrative agencies.
He called for the acceleration of the process of verification, investigation, prosecution and adjudication of serious yet complicated corruption and economic cases.
Party General Secretary Nguyen Phu Trong asked the committee to further strengthen its inspection and audit, particularly relating to the fields of negative publicity and who are at potential risks of corruption and waste.