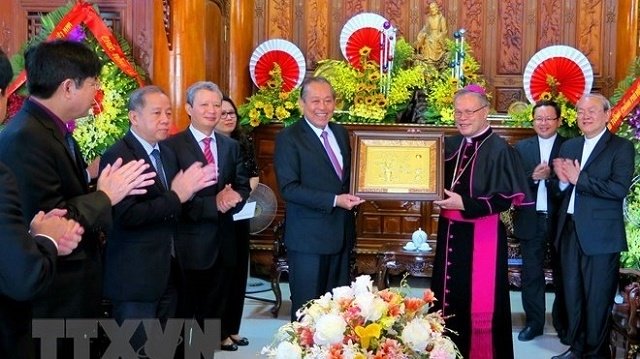 Christmas greetings were extended to Catholic dignitaries and followers in central Thua Thien-Hue province and Da Nang city, and northern Ha Nam province by senior officials on December 23.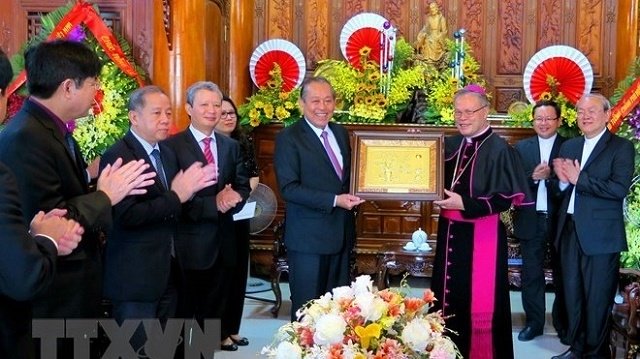 Deputy Prime Minister Truong Hoa Binh (fourth, right) meets with Archbishop Nguyen Chi Linh of the Archdiocese of Hue on December 23 (Photo: VNA).
Meeting with head of the Vietnam Episcopal Council – Archbishop Nguyen Chi Linh of the Archdiocese of Hue, Deputy Prime Minister Truong Hoa Binh wished local Catholics a merry Christmas season.
He noted contributions by Catholic followers to the country's all-round achievements. He said Catholic dignitaries have encouraged followers to be good citizens helping with local and national development and the great national unity bloc.
The Deputy PM affirmed that Party and State's consistent policy is respecting people's right to freedom of belief and religion, ensuring religious followers' rights and legitimate interests, and creating conditions for them to improve their living standards and contribute to the great national unity bloc.
He also expressed his hope that Catholic dignitaries and followers in Thua Thien-Hue will continue staying united and further adhering to the Pope's teachings and the Vietnam Episcopal Council's guideline of "living the gospel amidst the nation to serve the happiness of fellow countrymen".
For his part, Archbishop Nguyen Chi Linh appreciated the Party and State's greetings, adding that the dignitaries will continue encouraging Catholic followers to comply with laws and join people of all strata in the nation-building efforts.
On this occasion, Deputy PM Binh also visited and sent Christmas wishes to Catholics in the parish of Phu Cam in Hue city.
Later, the Government official paid a Christmas visit to Catholic and Protestant dignitaries and followers in the central city of Da Nang.
The same day, President of the Vietnam Fatherland Front Central Committee Tran Thanh Man visited the parish of Lanh Tri in Moc Nam commune of Duy Tien district, Ha Nam province.
He said the Party and State highly value the role of and contributions by Catholic followers in national building. He called on local Catholics to uphold the traditional patriotism and solidarity, keep contributing to their hometown and the country, and help enhance the great national unity bloc.
Priest Le Thanh Nghi, head of the Lanh Tri parish, said he will continue calling on followers to actively engage in movements and campaigns launched by the Vietnam Fatherland Front and join hands with local people in developing their hometown.
Source: NDO