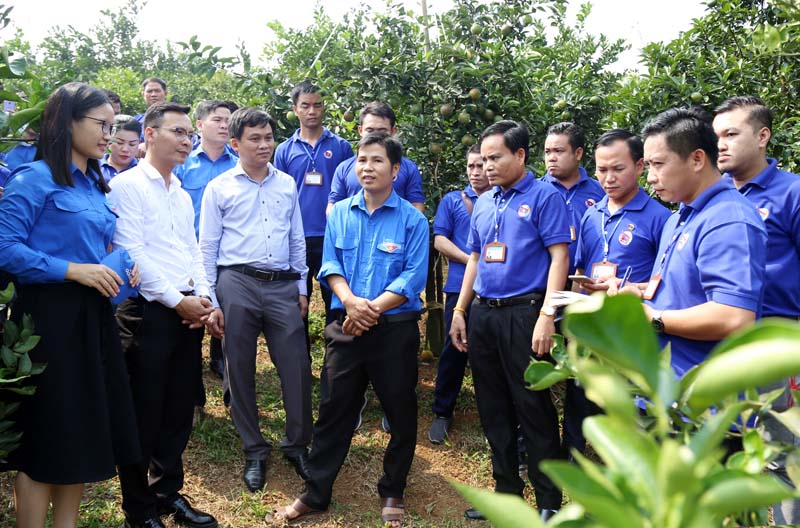 (HBO) – Bui Van Cuong, born in 1986, is a youth union member in Chang Ngoai hamlet of Dong Phong commune, Cao Phong district. He is known for his dynamism in changing crop structure and active participation in local movements. He has also shared his family's experience in agricultural production and economic development with local peers and residents.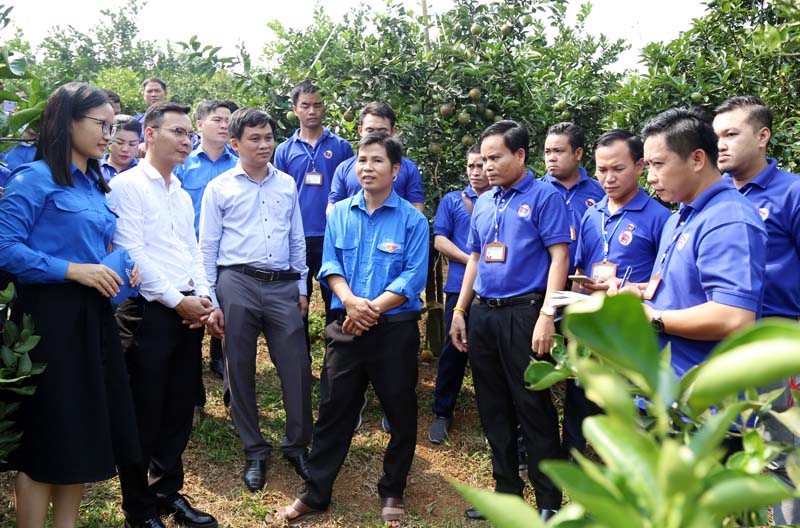 Bui Van Cuong (centre) shares experience in cultivating citrus trees with young people from Laos.
Cuong said in the past, his family farmed sugar cane and some food crops but earnings from them were limited and unstable. After receiving training in agriculture, he returned to his hometown to develop citrus trees which are also a trademark of Hoa Binh province.
Basing on what he has learnt at university and the experience of other orange farming models, Cuong and his family borrowed 100 million VND (over 4,300 USD) from the Vietnam Bank for Agriculture and Rural Development to invest in a store selling agricultural materials. Each year, the store sells more than 700 tonnes of fertiliser, pesticide, and rice and maize varieties, gaining over 4 billion VND in revenue and some 400 million VND in profit.
Cuong has also taken part in training courses on citrus tree cultivation and learned experience from effective models so as to develop orange farming.
With 0.5ha of yellow-flesh orange trees in 2012, he earned more than 180 million VND. The income from the orange garden increased to 300 million – 400 million VND in 2013 – 2014. Apart from expanding the yellow-flesh orange area to 2ha, Cuong also grew "canh" orange on 3,000 sq.m. of land.
The 2016 – 2018 period is considered a success in orange farming for his family. Since 2018, they have harvested about 10 tonnes of "canh" orange and 15 tonnes of yellow-flesh orange. The revenue in 2019 is expected at 800 million VND.
In particular, Cuong and his family have also contributed to the new-style rural area building. They have donated 1,000 sq.m. of land to the construction of rural roads and directly joined hands in building public facilities. Cuong have also actively persuaded other locals to donate land to make space for road construction when necessary. As a result, the new-style countryside building movement in Chang Ngoai hamlet has received strong support from residents and become highly effective.
With the achievements he had obtained, the district and provincial committees of the Ho Chi Minh Communist Youth Union rewarded Cuong and chose him as a delegate to a national gathering of 500 exemplary young Party members in studying and following President Ho Chi Minh's teachings. The event was held by the Central Committee of the Ho Chi Minh Communist Youth Union to mark 50 years of implementing the late leader's testament./.