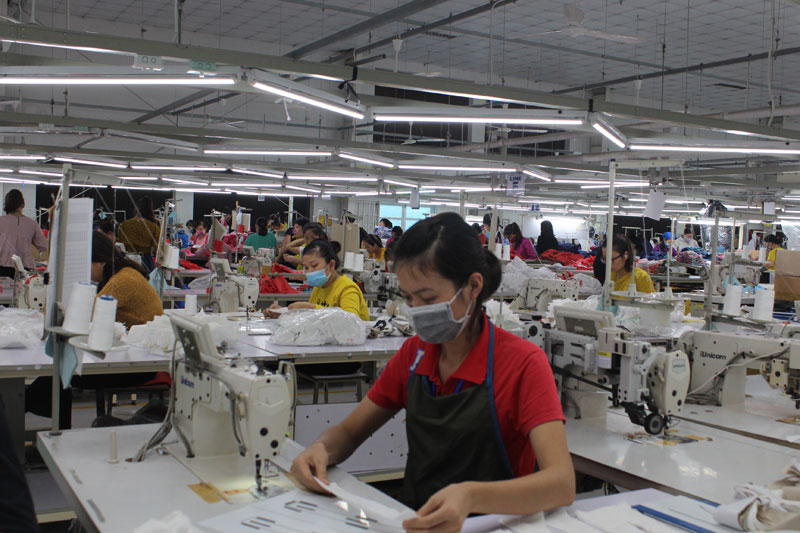 (HBO) -The double targets of socio-economic development, COVID-19 prevention are the leading task for Hoa Binh provincial departments, agencies and localities in order to maintain stable economic growth and ensure local people's lives amid the impacts of the COVID-19 pandemic.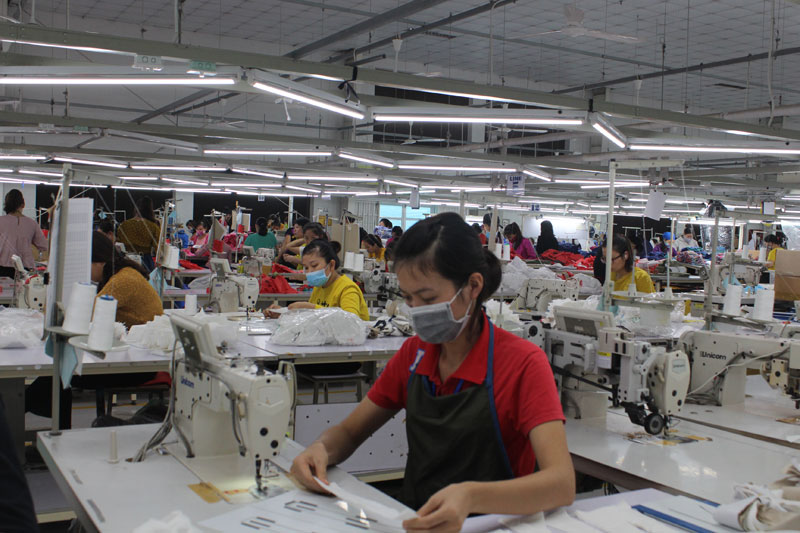 Amid the adverse impacts of COVID-19, workers at GGS Vietnam Co. Ltd at the industrial zone on the left bank of Da river, Hoa Binh city, still have stable jobs.
Over the past time, exports-imports have been hardest hit by the pandemic. According to the provincial Department of Industry and Trade, 24 trading companies, accounting for 53 percent of the total companies in Hoa Binh, engaged in trade ties with China. Therefore, local production took a hit due to the shortage of materials and delay in goods delivery.
Statistics showed that export value dropped by 1.41 percent year-on-year in the first quarter, meeting 15.73 percent of the yearly plan. The March value decreased by 4.8 percent month-on-month. The export of goods fell by 1.77 percent annually, meeting 15.42 percent of the yearly plan. Meanwhile, import value plunged by 42.6 percent in March from the previous month. The three-month import value reached 118.4 million USD, down 10.43 percent, realising 13.53 percent of the annual target. With such results, exports-imports face remarkable challenges to fulfill 2020 targets.
Aware of the challenges, the Department of Industry and Trade suggested 11 measures to tackle difficulties in production and trade, ensuring social lives and economic development while intensifying the fight against COVID-19. The sector strives to accomplish targets regarding industrial production, trade and exports-imports this year, towards earning over 1 billion USD from exports and spending 875 million USD on imports, ensuring that export-import value increase at an average 28.55 percent annually and total foreign trade value for 2016-2020 expanded by 3.5-fold from 2015, thus fulfilling the targets set by the Resolution of the 16th provincial Party Congress for the 2015-2020 tenure.
Other sectors are also seeking appropriate measures in line with the Prime Minister's directions about the fulfillment of the "double goals", including drastically fighting COVID-19 while tackling difficulties, promoting production and trade, ensuring social welfare and local lives, exerting the utmost efforts to achieve set social-economic development goals.
Statistics by the provincial People's Committee showed that the province's gross regional domestic product grew by 6.62 percent in the first quarter, with agro-forestry-fisheries up 2.65 percent, industry – construction up 9.99 percent, services up 4.78 percent, taxation up 3.34 percent. Regarding economic structure, industry-construction accounted for the biggest share with 47.09 percent. Tourism was the hardest-hit by the epidemic.
The provincial departments, agencies and localities are taking measures to achieve the "double goals". In the second quarter, the provincial People's Committee plans 18 groups of key measures./.