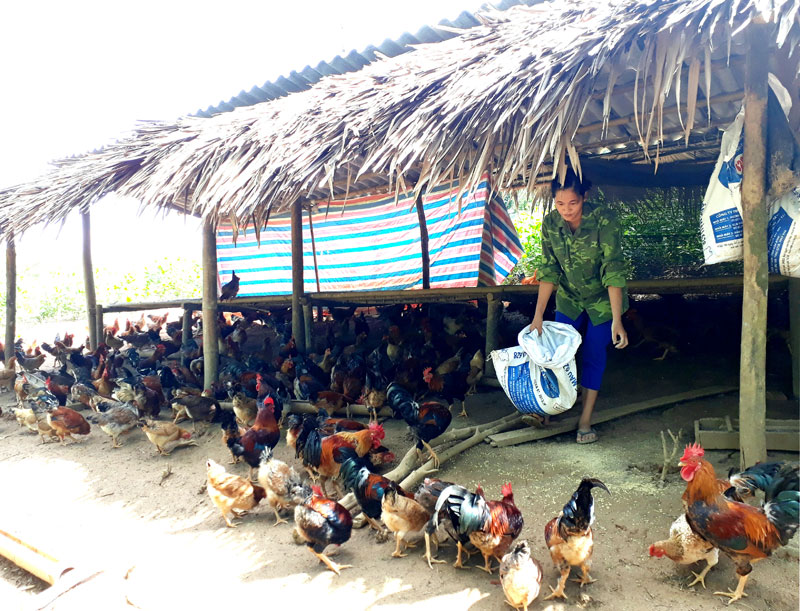 (HBO) – Learning and following the moral example of late President Ho Chi Minh has come into reality and created important momentum for Chi Thien underprivileged commune (Lac Son district) to reap practical outcomes in socio-economic development.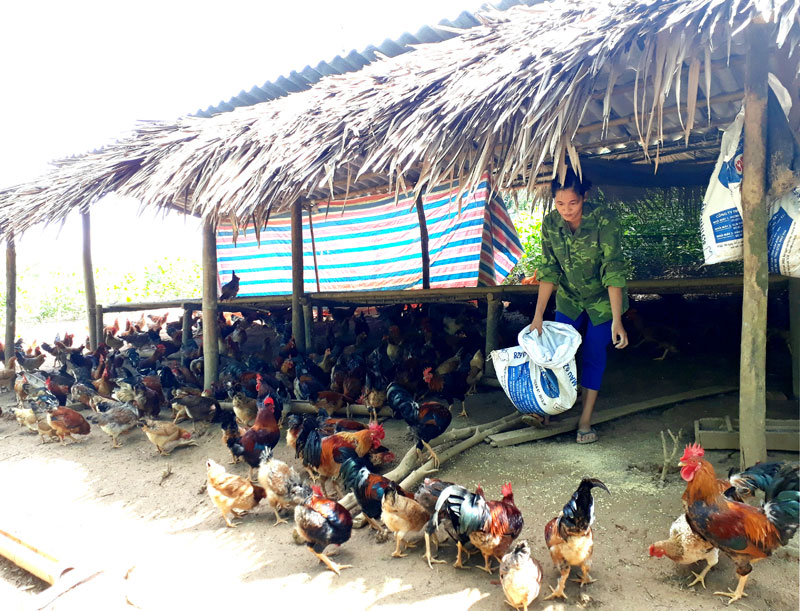 Raising chicken has helped locals in Chi Thien commune (Lac Son district) increase incomes (Photo taken at a chicken farm of family Quach Van Thanh from Nang village).
Chi Thien commune belongs to region 135, about 12km from the centre of Lac Son district. Before 2013, the locals met a lot of difficulties in life. Essential infrastructure, especially transport and electricity, did not receive synchronous investment. Secretary of the communal Party's Committee Bui Van Tan said defining the significant implementation of Directive No.3 of the Politburo on promoting learning and following the morals of President Ho Chi Minh to socio-economic development, Chi Thien has paid attention to communication campaigns among officials, Party members and people. The commune has focused on encouraging people to join the new-style rural area building and promoting the leading role of officials and Party members in the field as well as pushing ahead with the economic restructuring to reduce poverty.
Tan named outstanding families in rural development. For example, families of Bui Van Vinh and Bui Van Mich from Cai hamlet have cleared "doi" trees – which brought them millions of Vietnamese dong each year – to give land for the expansion of rural roads. Some households from Dang 2 hamlet have also cut down dozens of trees they had grown for years, which are considered as their valuable assets, to make roads wider. Notably is the family of Bui Van Mon who cut down over 20 "doi" and "lat" trees while families of Bui Van Khang and Quach Van Dung cleared million-VND-worth "doi" trees in service of the new style rural area building efforts.
Raising chicken in recent years has helped many households in Chi Thien have stable income. Bui Van Hue from Dang 1 hamlet, an outstanding youngster receiving the Luong Dinh Cua award of the Ho Chi Minh Communist Youth Union in 2015, developed this model, which got many households in the commune involved in raising thousands of chicken a year.
Family of Bui Van Sy from Nang hamlet has a garden of 2.3 hectares to raise chicken. Sy said his family sells over 4,000 chickens each year, earning a profit of 25,000-30,000 VND each chicken, which leads to a stable income of over 100 million VND annually.
Chi Thien commune has also shifted 30-40 percent of rice fields into growing maize and sugarcanes and other plants of high economic value. Prior to 2016, only 15-20 percent of households in Chi Thien had hygienic toilets. Now the figure has reached 50 percent and is expected to increase to 80 percent by 2018./.