(HBO) - Innitiated by the provicial chapter of the Ho Chi Minh Communist Youth Union, the Hoa Binh School of Young Socialist Workers, a model that integrated both learning and working activities, was established on April 1, 1958.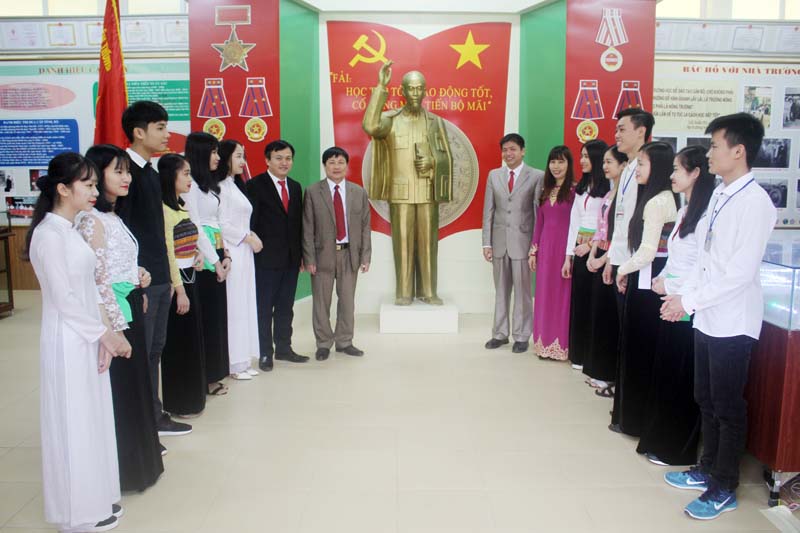 The school's management board and generations of students review its glorious history intertwined with teachings of late President Ho Chi Minh.
On August 17, 1962, the late President visited the school. In 1991, the facility changed its name intothe provincial Boarding School for Ethnic Minority Students, considering the President's teachings during his visit – "study well, work well, exert efforts forever and improve forever" – as its motto for operation.
Currently, the school runs 22 classes with 728 students, of which 13 are high-quality ones in terms of literature, math, and English. It has 87 teachers who were trained in line with standards.
The school consists of 30 classrooms, two libraries with 22 computers, and one multi-functional centre. Particularly, it has a traditional house to educate students about the school's history and achievements.
As a centre for training students from local ethnic minority groups, the school has so far gained encouraging results at different exams. For example, it recorded 99.56 percent and 96.92 percent of students passing the national high school graduation examination and university entrance exam last year. In the first semester of the 2019-2020 academic year, it saw 92.86 and 99.87 percent of students achieving good and excelent levels in study and moral conduct, respectively.
The establishment also frequently creates healthy and useful extracurricular activities to help its boarding students enhance their life skills and virtue. A highlight in these activities is the "30 golden minutes" programme taking place every Monday mornings./.