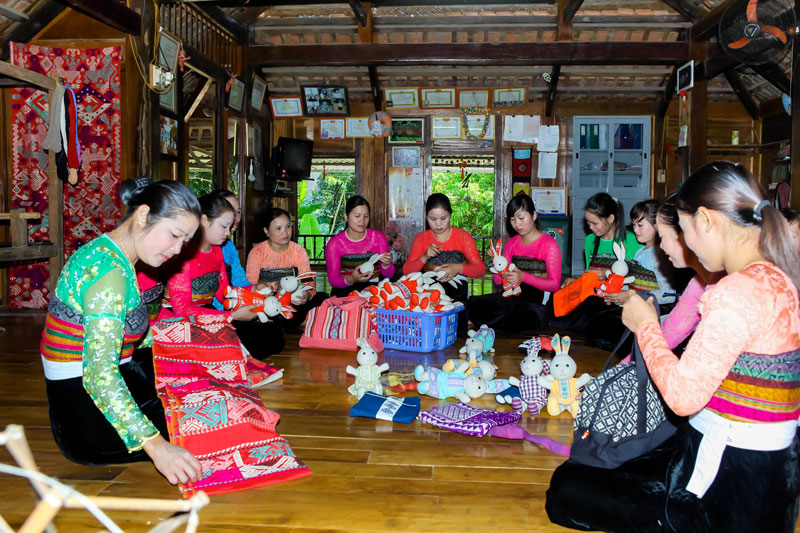 (HBO) - Le Van Tien, Standing Vice Secretary of the Party Committee of Mai Chau district's Chieng Chau commune, said that the new feature of this tenure's local Party Congress is to build an action programme on the implementation of a resolution carried out at the congress with the engagement of many deputies, thereby helping expand democracy, increase the quality of the action programme and quickly put the resolution into reality.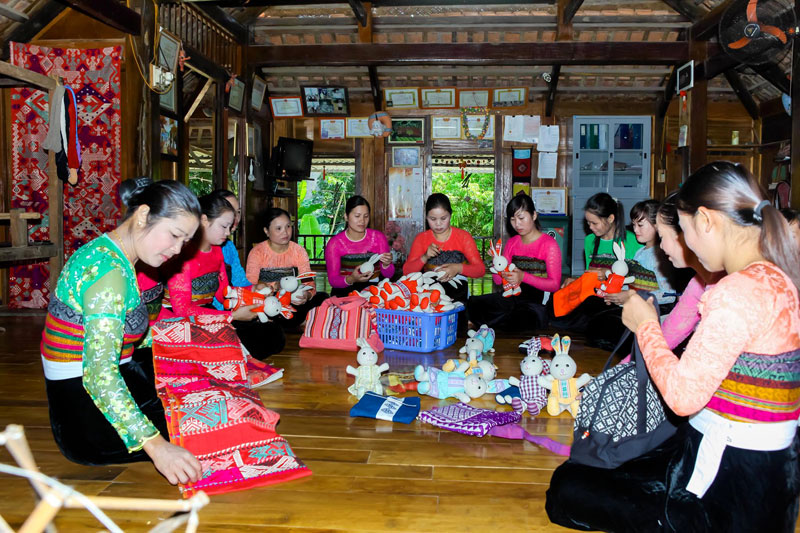 Residents in Lac hamlet, Chien Chau commune (Mai Chau) make brocade products to serve tourists and improve income.
In the 2015-2020 tenure, Chieng Chau commune's Party Committee has fulfilled and surpassed 14 out of 15 criteria set in the 26th Party Congress's resolution. Several criteria far exceeding the targets include the five-year economic growth rate averaging at 17.6 percent, annual per capita income reaching 43 million VND, the total budget collection up 17.6 percent and the poverty rate down to 2.8 percent.
Attention has been paid to the building of Party and the political system, Political security and social safety and order have been maintained. This is an important foundation for the 27th Congress in the 2020-2025 tenure to put forward a common target of "intensifying a transparent and strong Party and political system, maintaining defence security, paying attention to tourism development, and striving to become a modern-oriented new-style rural commune by 2025".
To that end, delegates set forward the action programme with the focus on four main tasks: Party building, economic development and new-style rural building, socio-culture, and defence-security.
In the next tenure, the communal Party Committee continues paying attention to political and thought education, Party building, and increasing the efficiency of Party organisations' operations and the quality of Party members, in order to further promote the role of the local Party Committee and authorities in directing locals to shift plant and animal structure, attract more investments, and step up tourism promotion.
Chieng Chau will step up educational socialization, ensure social welfare, improve locals' health care, and maintain social order and safety.
Currently, all Party organisations under the communal Party Committee has issued working regulations and programmes and popularised the resolution and the action programme to all Party members. With a rapid and synchronous implementation, Chieng Chau expects more positive socio-economic development results: production value up 10 percent a year, per capita income reaching at least 60 million VND by 2025, surpassing new-style rural building criteria, admitting at least 25 more Party members every year, and fulfilling all assigned tasks./.