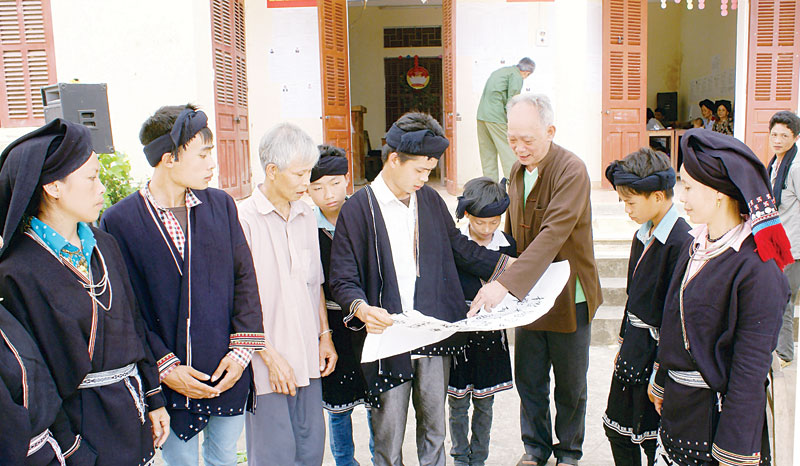 (HBO) – Sectors, agencies and units of Da Bac district's Party organisation have sought renovated and suitable solutions to implement the Politburo's Directive 05 on strengthening the studying and following of President Ho Chi Minh's thoughts, morality and style in association with the implementation of the Party Central Committee's resolution on Party building.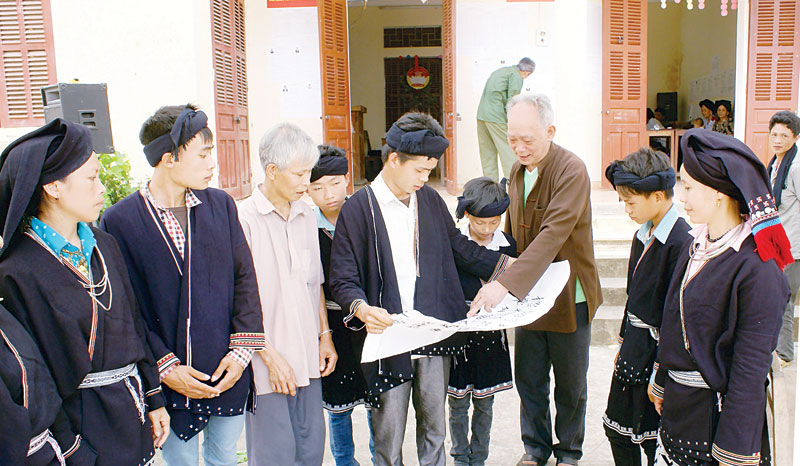 Officials of Dong Ruong commune discuss professional tasks.
Along with studying and popularising the contents of the directive as well as annual thematic issues, Party cells and organisations in the district have directed Party members, officials, especially leaders of Party Committees, agencies and localities to build plans to implement the directive.
So far, 85 percent of Party cells, organisations, agencies and sectors have completed the building of ethics standards that are being effectively implemented.
The district has seen many collectives and individuals showing outstanding performance in the field, along with fruitful models such as those to encourage locals to build new-style rural areas, devote land for the construction of re-settlement areas, and practice thrift to support poor students.
In response to the emulation movement of "Da Bac joins hands in building new-style rural areas," locals have initiated effective and creative methods for popularising and multiplying. Many collectives, individuals and households have contributed property and working days for the building of new-style rural areas, especially those in Tu y, Tien Phong, Dong Chum, Doan Ket and Giap Dat communes. Some households even donated 1,000-3,000sq.m to help the locality to build roads and public works.
One of the highlight of creative methods in implementing Directive 05 in Da Bac is the application of Uncle Ho's thoughts and working style in directing and settling urgent problems, such with focus on the State management over land clearance, construction, land, environment and natural resources management, urban order, ensuring political security, social order and safety.
Over the years, thanks to the implementation of Directive 05 in various fields, Da Bac has seen 15 outstanding collectives and 10 individuals with excellent performance in studying and following President Ho Chi Minh's moral example. In 2019, the district's Party Organisation was certified as "Outstanding, Pure and Strong" by the Hoa Binh province's Party Committee./.