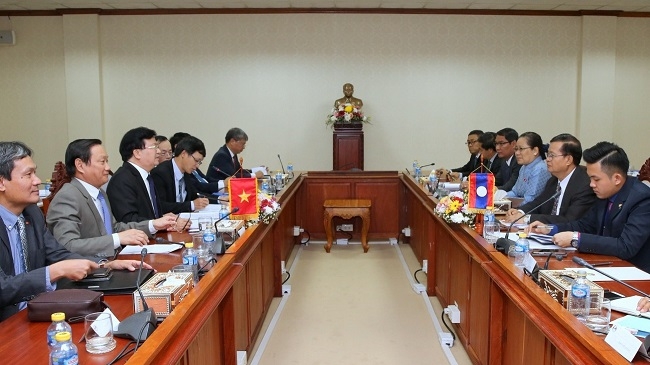 At the working session between Deputy PM Trinh Dinh Dung and Lao NA Vice Chairman Somphan Phengkhammy.
At a working session with Lao National Assembly Vice Chairman Somphan Phengkhammy on October 31, Deputy PM Dung said that the project is special since it constitutes a symbol of the traditional friendship, special solidarity and comprehensive cooperation between Vietnam and Laos.
The two sides pledged to work closely together to prepare for the ground-breaking ceremony for the project on November 1, as well as the construction of the building, which is designed to have modern architecture featuring the cultural identity of Laos, while ensuring its functional effectiveness.
Somphan Phengkhammy, who is also head of Laos's Steering Committee for the project, expressed his deep gratitude towards the whole-hearted support which Vietnam has given to Laos not only during the past struggle for national independence, but also in the current national construction and development.
He said that all preparations for the ceremony have been promptly made. He also pledged that the project will be carried out as scheduled.
Following the working session, the officials visited the venue of the ground-breaking ceremony and the National Assembly building.