(HBO) – In every working trip to Hoa Binh province, Party General Secretary Nguyen Phu Trong spent much time on visiting the residents and households with disadvantages while asking local Party committees and administrations pay more attention to helping people surmount difficulties.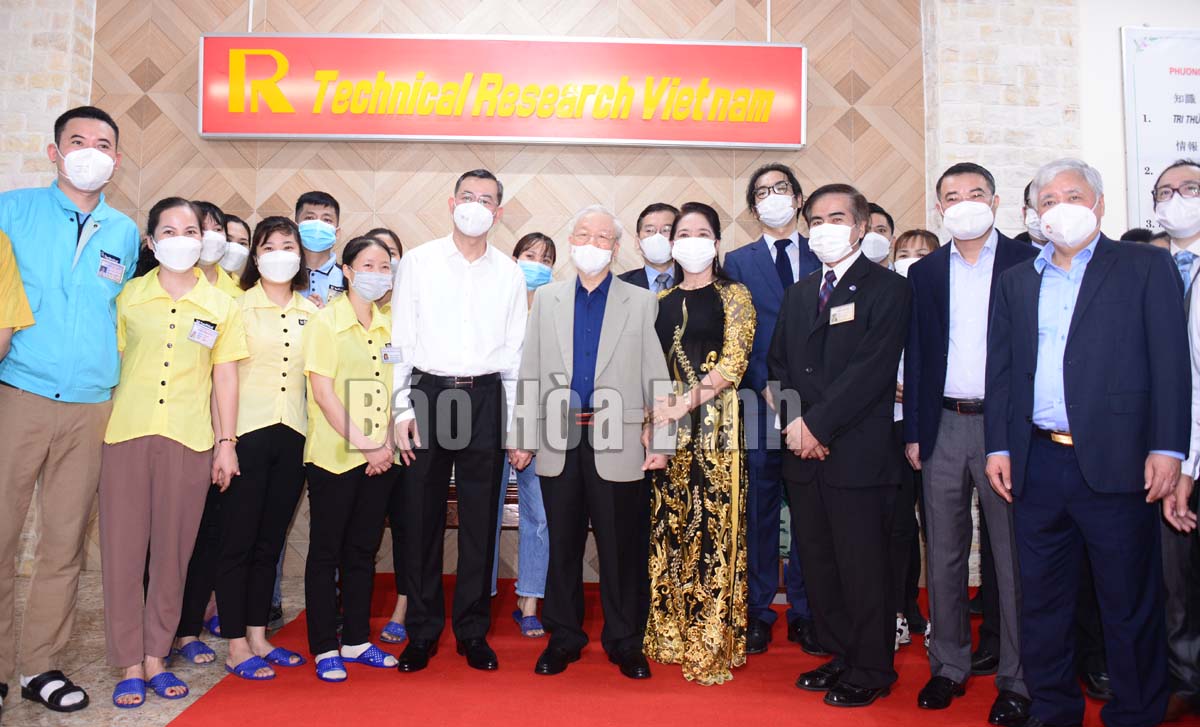 Party General Secretary Nguyen Phu Trong visits workers of the R Technical Research Vietnam Co. Ltd, wholly invested by Japan, in Hoa Binh province.
In late 2011, during his tour of the province, the Party leader visited cadres, Party members, and residents in Toan Son commune of Da Bac district, which is home to a large number of ethnic minority people. Thanks to the Party and State's attention, the commune has now completed the building of new-style rural areas, preserved and brought into play the local cultural identity, and developed tourism in the Hoa Binh Lake area. He also visited and presented gifts to less privileged families and attended the great solidarity festival in Cau commune of Bac Son commune, which is now Hung Son commune of Kim Boi district.
Coming to the Hoa Binh in late 2017, the General Secretary visited an orange farming model in Cao Phong township (Cao Phong district) and a community-based tourism model in Phong Phu commune (Tan Lac district). He expressed his hope that local people will preserve their ethnic groups' identities, develop a civilised lifestyle, and help to ensure national defence - security. He also gave local Party committees and administrations detailed instructions about the implementation of the Party's resolutions so as to improve the material and spiritual life of both cadres and residents. Thanks to that, localities in Hoa Binh have recorded great strides so far.
In his latest visit to the province on March 23 this year, the leader expressed his delight at local development.
He visited the R Technical Research Vietnam Co. Ltd, asking the Japanese-invested firm to pay due attention to building business culture and harmonious labour relations while better caring for the working environment and living conditions of its employees.
The General Secretary applauded the province's achievements in performing political tasks in 2021. He also specified directions and orientations for the provincial Party organisation in terms of building the Party and political system, making strategic breakthroughs, fighting against the COVID-19 pandemic, and guaranteeing defence - security.
Bui Tien Luc, head of the provincial Party Committee's mass mobilisation board and President of the provincial Vietnam Fatherland Front Committee, said the entire Party, people, and army, including people of all ethnic groups in Hoa Binh trust and respect the Party leader. He said the encouragement and instructions by the Party General Secretary are a great source of support for local cadres and residents to bring into play the province's revolutionary tradition, and press on with comprehensive reforms so as to achieve the targets set by the 17th provincial Party Congress, thereby turning Hoa Binh into one of the leading provinces in the northern mountainous and midland region./.