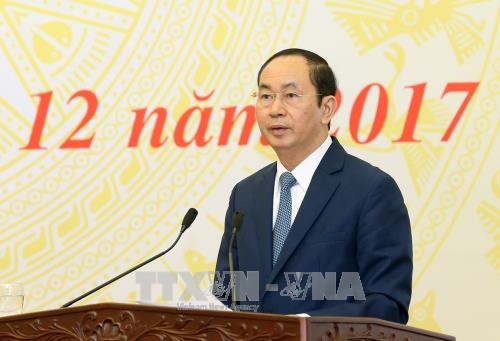 President Tran Dai Quang speaks at the conference. (Photo: VNA)
President Tran Dai Quang made the statement while attending a National Conference on the implementation of judiciary work in 2018 in the capital city on December 25.
The State leader who is also Head of the Central Steering Committee for Judicial Reform spoke highly of the Ministry of Justice's achievements in 2017, particularly its efforts in carrying out the task of institutionalisation.
Positive changes have been made to the processes of investigation, prosecution, trial and sentencing, all of which has helped prevent wrongful verdicts, the President said.
Judicial reform is an important content in the Party's renewal policy on building the socialist law-governed state which must be carried out in a synchronous manner with the overhaul of the political system as well as legislative and administrative reforms, he noted.
He also asked relevant agencies to pay closer attention to clarifying the shortcomings in recent reforms, analysing the reasons for them and suggesting several major means for improvement in the near future.