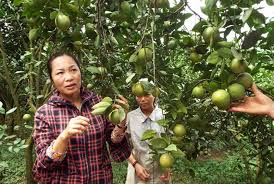 (HBO) - Mrs. Dang Thi Thu, in Area 2, Cao Phong town (Cao Phong) is one of the households with the income from orange growing in the top of Cao Phong town, a typical producer and a good businesswoman in the district. She has been honored as an excellent Vietnamese farmer.
Mrs. Thu is happy to say: "This year, many orange crops have been poor, the output has dropped. But for my family, the orange productivity has still been guaranteed. It has been estimated that the area of oranges would also reach 40 tons. Because of the good quality, the oranges have been retaining the cool, sweet and nice flavor with nice design. As a result, we don't have to worry about the output and the price is relatively stable."
Coming from Hung Yen, Ms. Thu has been in Cao Phong town to earn a living by trading. Her husband died early, she herself has been taking on everything. Having been planting oranges since 2007 and after many hardships, Ms. Thu now owns 6 hectares being distributed in 3 gardens with mainly Canh oranges and oranges with yellow heart. All of the orange areas have been planted and intensified according to VietGAP standards.
Due to the application of scientific and technological advances to intensive farming and planting according to VietGAP standards, the quality and design of oranges are delicious, beautiful and safe. Every year, her family gets a stable income of about 5 billion VND. Her family is one of the top-earning farmers in Cao Phong district. Besides, her economic model has also created regular jobs for 20 employees with an income of about 5 million VND a month.
Mrs. Thu not only enriches herself, she is also known as a philanthropic female billionaire. She says: "Being from poverty, I really sympathize and i am always conscious of helping the poor people to stabilize their lives and develop production".
Since 2014 with the six consecutive years, Ms. Dang Thi Thu has always been awarded by the State and the province for her achievements as a good farmer and producer. Especially in 2016, she was honored as an excellent Vietnamese farmer. She was awarded a merit of certificate by the Prime Minister. She herself is an excellent example of studying and following Ho Chi Minh's ideology, morality and style.