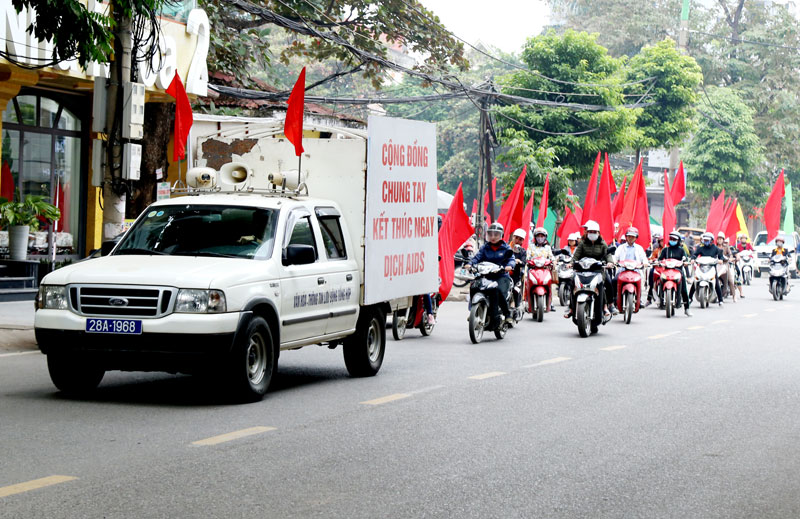 (HBO) - The Women's Union has collaborated with the Center of the Disease Control of the province to start a launching ceremony responding to the National Action Month controlling and preventing HIV / AIDS in 2019 and the World HIV / AIDS Day on December 1st. Mr. Bui Van Cuu, the Vice Chairman of the Provincial People's Committee and the leaders from departments, appropriate authorities and numerous officials, women members and the local people have attended the launching ceremony.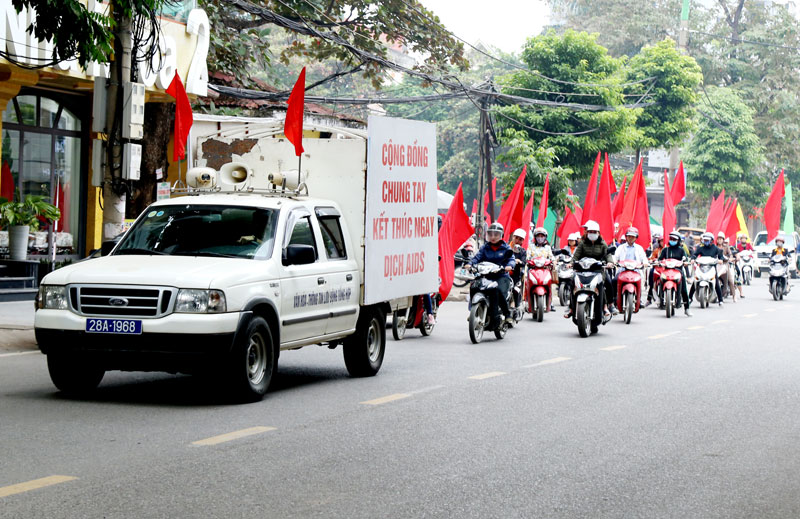 The parade for propaganda on HIV / AIDS prevention and control on the main roads of Hoa Binh city.
The HIV / AIDS pandemic is complicated and increasingly spreading in many countries around the world. In our province, every year there are more than 60-70 new people infected with HIV. By July 30, 2019, the whole province had detected 2003 people living with HIV in 11 districts and the city. 1,018 people have died from AIDS. Currently, 985 people living with HIV are still managed. Every year, there are about 5-8 HIV-infected pregnant women giving birth. In the field of HIV/AIDS treatment, our province is the pioneer in bringing the payment HIV/AIDS examination and treatment through the health insurance. Currently, 100% of the HIV/AIDS patients are treated at 5 HIV/AIDS outpatient clinics with the health insurance cards ...
With the theme "Working together to complete the AIDS epidemic by 2030", this year's National Action Month on HIV/AIDS takes place from 10th October to December 10th, 2019 with a view to raising the awareness and promoting the participation of both the political system and the entire population in the implementation of the "National Strategy on HIV/AIDS Prevention and Control to 2020 and a vision to 2030", meeting 90-90-90 goals and aiming to complete HIV/AIDS epidemic in Vietnam by 2030.
At the launching ceremony, the Steering Committee of the campaign has called for the whole political system in the province to actively take part in, and to synchronously implement the solutions to limit the development and spread of HIV/AIDS among the community. ... The representatives of the Provincial Center for Disease Control, Hoa Binh Women's Union have delivered a speech responding to the Action Month with the concrete and practical actions. Right after the launching ceremony, there was the parade for propaganda on HIV / AIDS prevention and control on the main roads of Hoa Binh city.