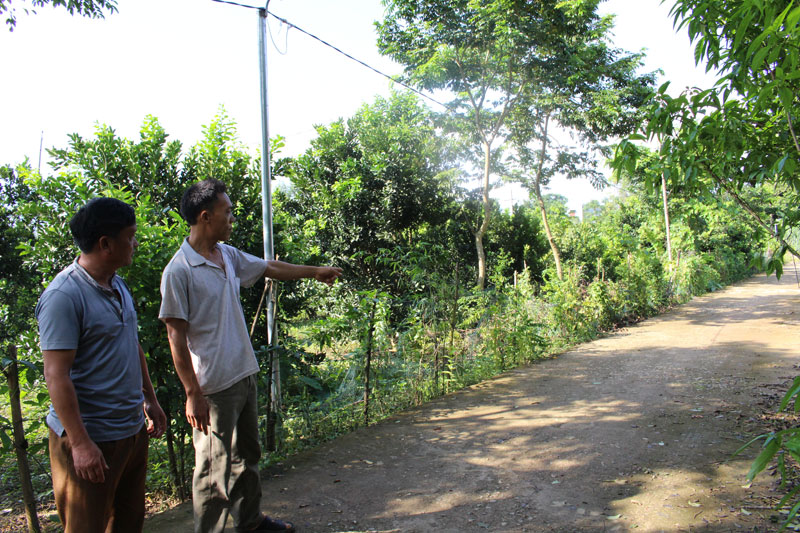 (HBO) - In Tu Ly commune, Dao ethnic people account for more than 20% of the population. Dao ethnic live mainly in Ma hamlet, Tay Mang, Huong Ly and Mit hamlet. Recently, with the timely attention from the Party Committee and the local authorities in the socio-economic development, the life of Dao ethnic people in Tu Ly commune has changed. Every family has a TV, a refrigerator, a motorbike, etc. The hillsides have been cleared and greened by the gardens of corn and pomelos.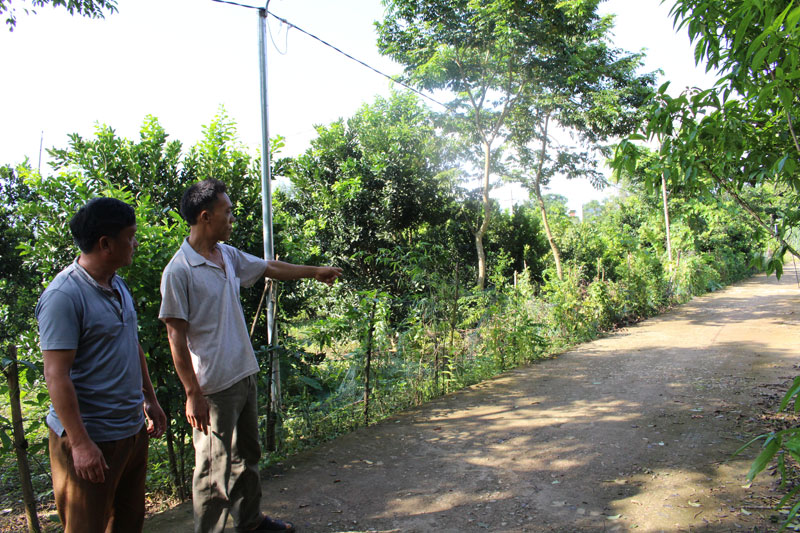 Dao ethnic people in Tu Ly commune (Da Bac) have been actively participating in the movement of donating land to build roads. The photo has been taken at Ma hamlet, Tu Ly commune.
Upholding the hard-working and industrious tradition, Dao ethnic people in Tu Ly commune have always made great efforts in the economic development. Dao ethnic people in the commune always go ahead in responding to the undertakings and policies of the party committee and the local government on restructuring plants and animals.
The active participation in the training courses on technology transfer in crop and animal husbandry and the loan support for economic development have contributed to raising incomes, reducing hunger and poverty for Dao ethnic people in the area. The average income of Dao ethnic is about 35 million VND a person every year. There are a lot of Dao ethnic households doing good business such as Mr. Trieu Van Dong (Ma village), Ly Van Xuan, Ly Manh Ha, Ly Van Hoi (Mit village) in the commune.
Mr. Trieu Phuc Chan (70 years old) in Ma village, a reputable person, always wants Dao ethnic people in Tu Ly commune to preserve the uniqueness in Dao culture for the younger generation. Therefore, he still silently teaches the spoken language as well as the writing and the customs of Dao ethnic people to the younger generation everyday. According to him, no matter how life changes, in the life of the Dao people it cannot ignore Cap Sac Ceremony for men (A ceremony to acknowledge the men's maturity). When granted an identity, the man is considered to be mature and has the right to participate in the basic tasks of the hamlet.
In addition, Dao ethnic people also pay great attention to the ancestor worship, in which Nhay New Year Festival is a special ritual, and it is considered the most important festival of Dao ethnic people. Nhay New Year Festival demonstrates the principle of "drinking water, remembering the source", revering the ancestors, connecting the community to build a prosperous and happy village together. Additionally, the traditional costumes such as clothing, dresses, brassieres, scarves and hats are worn daily by Dao ethnic people. Dao ethnic people in Tu Ly also consciously preserve their writing through the transmission of writing to the younger generation. The local people often practice their traditional dance and folk song to perform at important events of the commune and district.