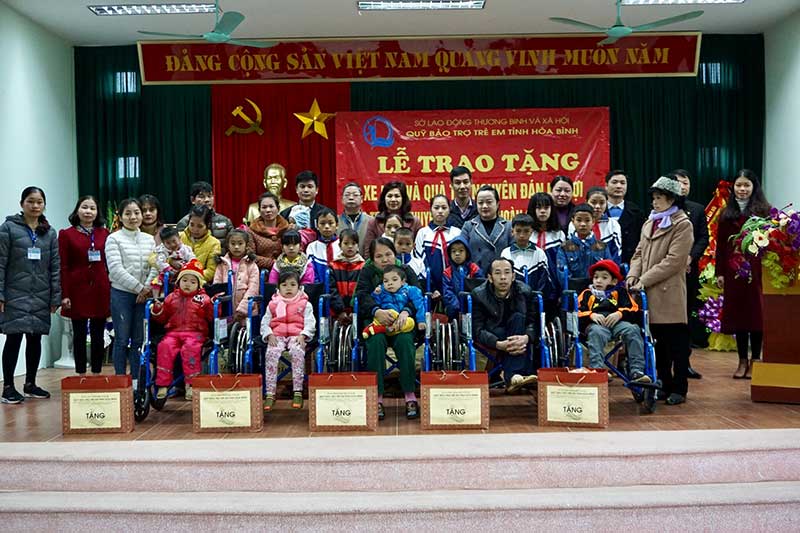 (HBO) - Hoa Binh province has 23,469 social protection beneficiaries. Over the past time, the labor, war invalids and social affairs sector has done a good job of reviewing, making statistics and advising the provincial authorities to mobilize the participation of the political system and people of all strata to help and share with disadvantaged groups in society.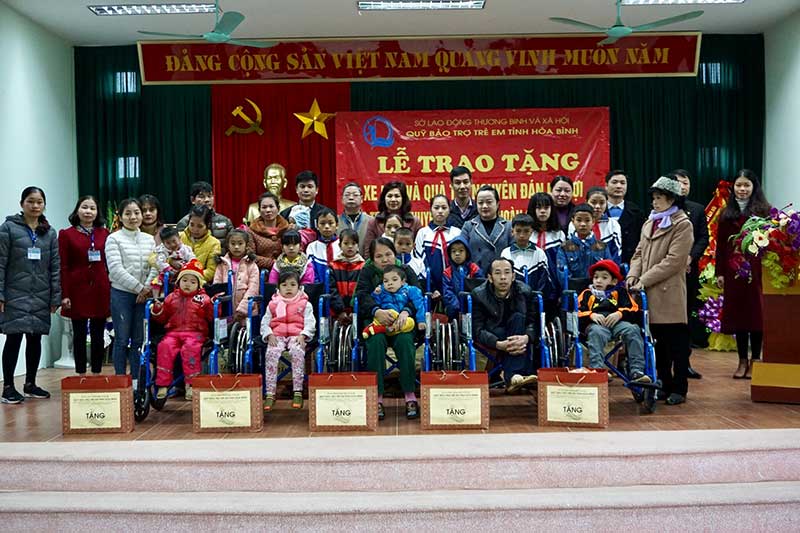 A representative of the provincial Department of Labor, War Invalids and Social Affairs presents wheelchairs to disadvantaged children in Hoa Binh city.
Right from the beginning of the year, the sector advised the provincial authorities to direct localities to support poor households to welcome the Lunar New Year in 2019. Accordingly, the whole province raised over 9.5 billion VND to present gifts, visit and help the disadvantaged. At the same time, the sector also gave advice to the provincial People's Committee to consider the allocation of 91,995 kg of rice from the national reserve to support households facing rice shortage in between-crop period in Kim Boi, Cao Phong and Mai Chau districts.
During the year, the provincial Center for Social Work managed, cared and nurtured 231 old people, helpless children, disabled people and victims of domestic violence and sexual abuse. In the caring process, the center maintained health care, rehabilitation, disease prevention, and environmental sanitation for the beneficiaries.
In addition, the center's staff gave consultations directly, via phone, and in the community for more than 700 people on social assistance issues, regimes, policies and procedures for admission to social protection establishments; procedures and dossiers for child adoption. It coordinated in organizing five communications and skills education sessions for 350 children in the community on child abuse prevention and control in communes and wards and a training course on social assistance for drug-resistant tuberculosis patients for 70 staff members, social work collaborators and those in charge of tuberculosis in districts. A training course on mental health care was held for 100 labor, invalid and social affairs officials, social work collaborators and those in charge in districts, together with three training classes on supportive interventions for children who are victims of abuse and violence, those at risk of being exploited and abandoned, and others with special circumstances for 240 child protection officials at district and communal levels.
In order for no one left behind, during the year, the provincial Department of Labor, War Invalids and Social Affairs actively reviewed and proposed expanding groups of people with extremely difficult circumstances who are yet entitled to monthly social allowances in the community; disadvantaged people are not eligible to be admitted to social protection establishments to provide assistance for them. The department has directed the Divisions of Labor, War Invalids and Social Affairs of districts and city to coordinate with post offices in paying allowances to social protection beneficiaries in a right, sufficient, safe and convenient manner.
Nguyen Thanh Thuy, Deputy Director of the provincial Department of Labor, War Invalids and Social Affairs, said currently, the sector is organizing activities of visiting and assisting social protection beneficiaries on the occasion of Lunar New Year. At the same time, it is building a plan to implement social protection work in 2020.
In the immediate future, the department will focus on giving timely assistance to social protection beneficiaries during the Lunar New Year and the between-crop months, while implementing fully and promptly social assistance and preferential policies for the disadvantaged and those in need in line with law. It will mobilize all social resources and develop community-based assistance forms to create favorable conditions and opportunities for disadvantaged people to overcome their difficulties and integrate into the community./.