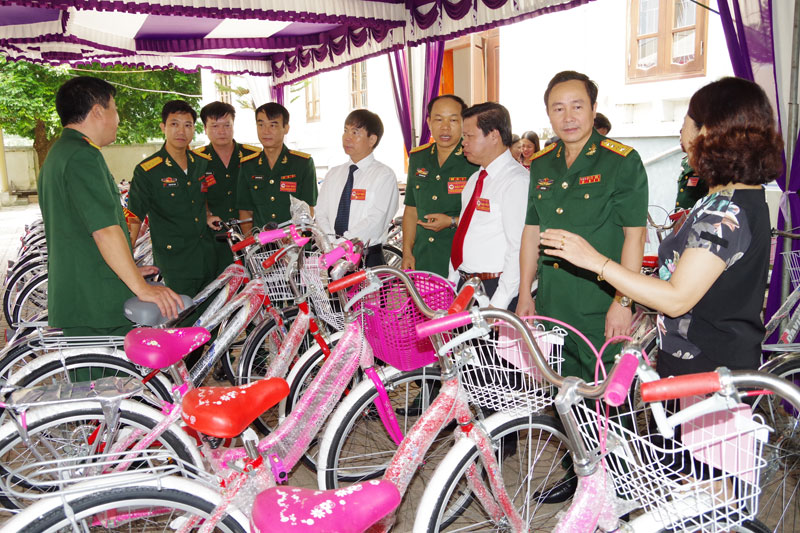 (HBO) - Nearly 2,500 bicycles, hundreds of scholarships, study spaces, tens of thousands of notebooks, textbooks, learning aids awarded to disadvantaged children are practical and meaningful results from the movement "Accompanying children to school" launched by the provincial armed forces over the past years. The activity was also hailed by the High Command of Military Zone 3.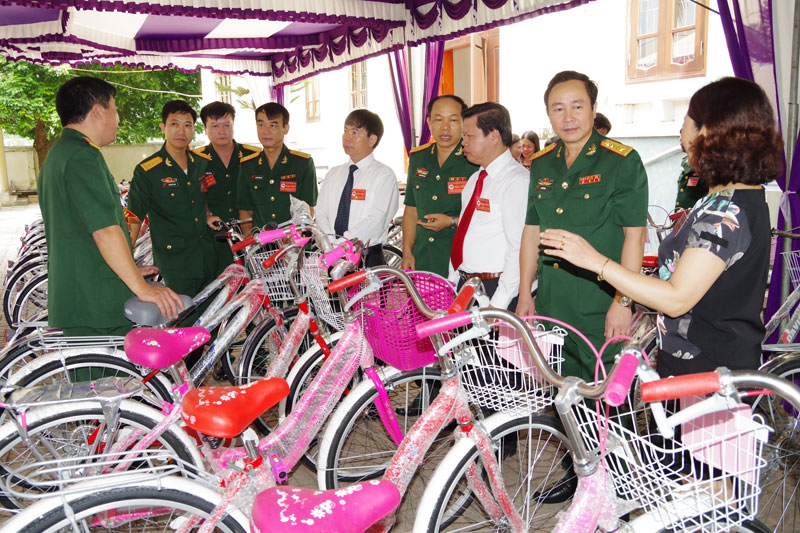 Lac Thuy district's Military High Command presents bicycles to disadvantaged students.
Lac Thuy district's Military High Command was chosen to pilot the model "Accompanying children to school" which was initiated by Col. Bui Van Hung, former Political Commissar of the district Military High Command. The model has been implemented since 2015. The command partnered with the local Division of Education and Training, authorities of communes and townships to review the list of poor households to provide support, as well as encourage army units stationed in the area to join the effort. The command has so far presented 388 bicycles, 24 learning spaces, 150 backpacks, and scholarships each worth 2 million VND to 16 students per academic year, totaling 629 million VND.
The movement aims to support poor students materially and spiritually. With timely assistance, many of them could continue going to school. The model has increasingly spread in the provincial armed forces and the society. Many individuals and collectives offered donations and presented hundreds of bicycles to underprivileged students. Since its launch in 2015, the provincial Military Command donated 2,349 bicycles, one wheelchair, 22 electric fans, 83 sets of tables and chairs, 640 backpacks, 158 Casio calculators, 180 health insurance cards, 220 sets of uniform, over 200 scholarships worth over 2 billion VND to local poor students.
The movement "Accompanying children to schools" together with the movement on new rural development, poverty reduction are proving effective and welcomed by the public./.